As Dubai's iconic skyline continues to reach new heights, so does the real estate market of the entire United Arab Emirates (UAE). Nestled amidst stunning skyscrapers and luxurious villas, Altitude Real Estate Dubai is here to be your guiding compass. In this thriving ecosystem, Property Finder and Bayut are two digital titans competing to be your ultimate ally in navigating the property terrain. In this guide, we'll dissect these platforms to help you make an informed choice in your quest for the perfect home or investment opportunity.
Property Finder: Your Passport to the Middle East

Property Finder is akin to a master key that unlocks properties not just in the UAE, but also in the broader Middle East. Its multilingual capabilities in English and Arabic make it an oasis for a diverse clientele.
Pros:
Diverse Portfolio: From swanky apartments and opulent villas to the alluring townhouses and land for your own castle, Property Finder is your treasure chest.
Precision Targeting: Their advanced filters are akin to a real estate sniper, honing in on properties that tick all your boxes.
Direct Contact with Crusaders of Real Estate: Engage in seamless dialogues with agents through phone, SMS, WhatsApp, or email.
Super Agents: The crème de la crème of agents, crowned by an Agent Data Assistant (ADA), based on listings' quality, response time, and customer service. They also enjoy boosted visibility with a special icon.
Cons:
Price Mirage: Some users reported instances of misleading total prices, sometimes being confused with down payments.
Currency Discrepancy: Watch out for some currency conversion potholes.
Bayut: The UAE Property Connoisseur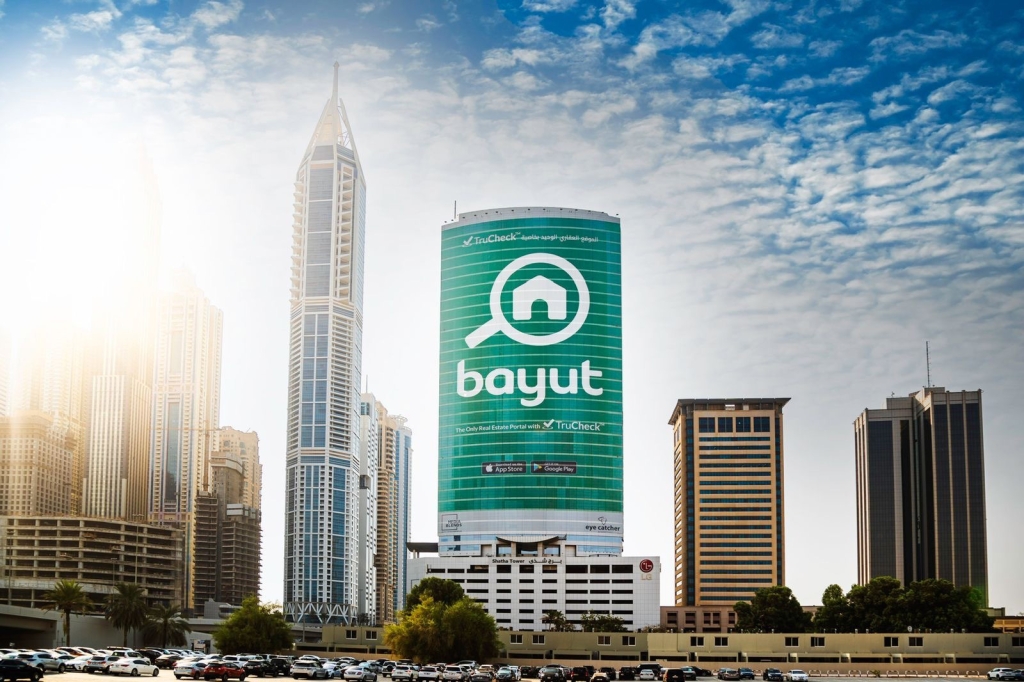 Bayut is the maestro of the UAE's property symphony. With a colossal database of properties, it's your ultimate guide within the UAE's borders.
Pros:
Ocean of Properties: Like Property Finder, Bayut offers a plethora of property options ranging from apartments to commercial spaces.
Customizable Search: Tailor your search down to the finest details.
TruCheck™: Bayut's hallmark feature that verifies the availability and accuracy of listed properties.
Saved Searches and Favorites: Create your treasure map, marking jewels that catch your eye for future expeditions.
Cons:
Questionable Accuracy: Some explorers have reported discrepancies in property availability and rental prices.
Pro Tips for Digital Real Estate Voyages
Cross-Verify: Keep your detective glasses on! Always corroborate information from the platform with the agent or owner.
Price Vigilance: If you discover an Aladdin's lamp in prices, proceed with caution.
Leverage Advanced Search: Fine-tune your search radars for the best results.
Direct Contact Utilization: Engage agents for intel gathering on your chosen property.
Patience, Young Padawan: Finding the Holy Grail of properties requires time and patience.
The Final Verdict
Property Finder and Bayut are both formidable allies in your UAE property quest. While Property Finder is your passport to the broader Middle East with Super Agents, Bayut is your UAE-specialist with its TruCheck™ feature. Both platforms come with their own set of swords and shields.
Choosing your digital comrade in the thrilling crusade for UAE properties depends on your specific needs and preferences. Equip yourself with the knowledge shared here and embark on your real estate journey with confidence.
Happy hunting!
---
Altitude Real Estate Dubai is your premier partner in navigating the UAE's ever-evolving real estate landscape. Stay tuned for more insightful articles and guides. Share your thoughts in the comments and let us know if there's a topic you'd like us to explore next.