Dubai's real estate market continues its upward trajectory, reflecting a vibrant economy and a robust demand for high-quality residential properties. This article delves into the dynamics of Dubai's real estate market, focusing on property prices, rents, and the areas where they rose and fell in April 2023.
According to a report by CBRE, the first four months of 2023 recorded a record-breaking 36,946 residential transactions, showing a surge in activity in the real estate sector. One of the hotspots, Palm Jumeirah, registered the highest sales rate per square foot for villas at Dh4,635 in April, a 4% increase compared to the previous month.
On average, property prices in Dubai increased by 14.5% annually in April, driven primarily by the off-plan market. The average apartment prices rose by 14.5% to Dh1,256 ($342) per square foot and average villa prices increased by 14.9% to Dh1,484 per square foot.
Sales rates also showed a positive trend, with apartment rates up by 1.8% and villa rates growing by 2% on a monthly basis. Although average apartment sales rates across the emirate are still 15.6% below the record levels of late 2014, several neighborhoods have already surpassed these levels. Meanwhile, average villa sales rates are now 2.7% above their 2014 peak.
Among the priciest areas to buy an apartment in Dubai is Jumeirah, with a price per square foot at Dh2,367. However, this marks a decrease of 3.1% from March. For villas, Palm Jumeirah outshone other locations with the highest sales rate per square foot. Other expensive areas for apartments include Downtown Dubai, Palm Jumeirah, Dubai Hills Estate, and The Old Town, while for villas, Jumeirah, Emirates Hills, District One, and Jumeirah Islands top the list.
In April alone, there were 7,615 property transactions, a 16.2% increase from the same period last year. The first four months of 2023 saw a remarkable 43.2% rise in total property transactions compared to the same period in 2022.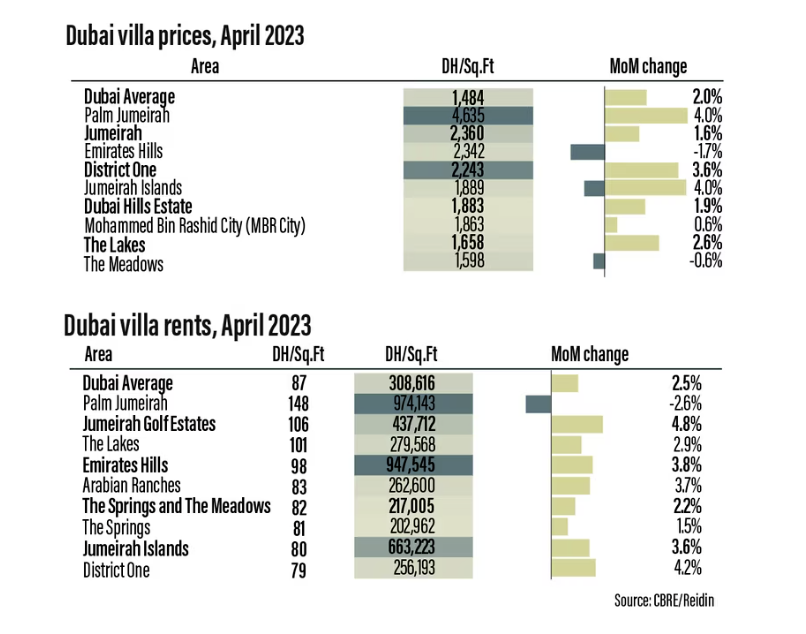 Interestingly, the growth in the real estate sector was primarily driven by the off-plan market, which saw a 42.5% increase in sales. This growth compensated for a slight decrease of 2.4% in the secondary market.
On the rental front, average rents in 2023 through April surged by over a quarter. Specifically, average apartment and villa rents increased by 25.7% and 26.1% respectively. As of April, the average annual apartment and villa rents stood at Dh102,675 and Dh308,616 respectively.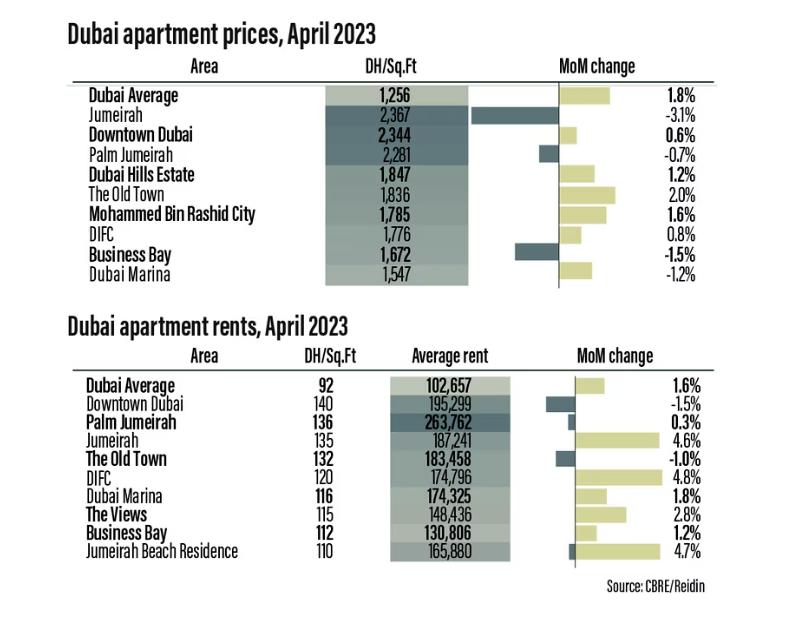 The highest average annual apartment rents were found in Palm Jumeirah at Dh263,762. In contrast, Al Barari recorded the peak average rents for the villa segment, at nearly Dh1.008 million.
These rental increases can be attributed to an influx of high-net-worth individuals into the city and the introduction of new visa programs that encourage longer stays or overseas relocations.
In conclusion, Dubai's real estate market has shown remarkable resilience and growth in the face of global challenges. With its strong economic fundamentals and a steady influx of investment, the city remains a sought-after destination for property buyers and renters alike.